Nowadays marketplaces are popular online shopping channels, as buyers, usually drawn to cheaper prices and greater product availability. The largest in the world, owned by Alibaba and Amazon, dominate the marketplace industry. But there are a variety of marketplaces that are increasing sales at a rapid rate, many of which offer goods in a specific retail segment.
The easiest way of developing a marketplace is by using a pre-crafted Prestashop Multi-Vendor Marketplace Gold Plan. They offer several features and are developed with scalability benefits. KnowBand has released the Gold multi-vendor marketplace plan for owners of eCommerce stores.
In addition to the Multi-vendor Marketplace module, the combo comes with the following modules:
These modules will make your marketplace inventory management and product listing easier. Refund and return handling will be automated and the owner will be able to run deals on the marketplace with no extra efforts.
The Multivendor Marketplace Gold Plan is available for the PrestaShop store and has a lot of features to offer. The marketplace module itself is feature-rich and you can read this to know more about the marketplace module.
In this blog post, I will be discussing the benefits of the Multivendor Marketplace Gold Plan.
Why choose Multivendor Marketplace Gold Plan?
Cost-effective:
The Gold Plan has several modules in it that allow you to add various functionalities to your PrestaShop Marketplace. The Gold plan is cost-effective because hiring a developer to add a few features costs a lot. This plan will definitely fit into your pocket and will help you create a fully functional multi-vendor marketplace. You will find a module for every need you have or if not, then we can create customized modules for your Marketplace.
All the marketplace modules are easy to install and configure:
The modules are easy to install and configure from the backend of the store. The process involves 3 basic steps:
Purchase the Gold Plan from the KnowBand store.
Upload the modules on the store
Install and configure it as per your requirements.
Converts eCommerce single seller store into Marketplace
If you own a single seller online store, then the Marketplace Module will upgrade your website into a multivendor marketplace. Using the PrestaShop Multi-seller Marketplace plugin's Gold Plan, store owners can upgrade their single seller store into an online shopping mall.
Creates fully-featured Marketplace:
Marketplace like Amazon is hard to manage and you have to juggle with a lot of things like handling sellers, order management, inventory management, and a million other things before and after creating a marketplace.The PrestaShop Marketplace module and the other compatible modules included in the Gold Plan will create a fully functional, feature-rich marketplace.
Easy Management:
E-commerce marketplaces look like an elegant mix of goods and deals from the outside, while internally they are a mess of intricacies that fit together to create an outstanding user experience. It takes powerful algorithms and entanglements on the inside to make e-commerce services look picturesque to the external world. Platforms such as PrestaShop, Magento, Shopify, and OpenCart have streamlined the process of creating an online store and with the Marketplace plugin installed to your website, the management becomes easy.
Benefits of Prestashop Multi-Vendor Marketplace Gold Plan over Basic Plan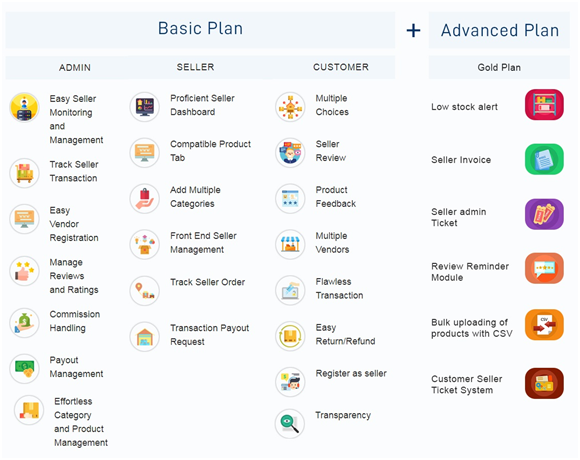 The Marketplace Gold Plan for PrestaShop offers all the basic features of the Multivendor Marketplace along with other features of other supportive marketplace modules.
Marketplace CSV import/export plugin -Bulk uploading of the products by the sellers via CSV import-export option
Marketplace Customer-Seller Ticket Addon-Seller Customer Ticket system for question resolution
Marketplace Deal Manager module-Sellers can use deal managers to run deals and discounts for their goods.
Marketplace Seller Invoice-Sellers can configure the invoice for better branding with the Seller Invoice module
Marketplace Sellers-Admin Ticket System-Seller Admin ticket system for chatting with vendors and administrators
Marketplace Low Stock Warning– Will alert you for the lower stocks on time so you can manage it well before.
Review, Reminder, and Incentive– Encourages customers of the marketplace to drop reviews in exchange for the incentives.
Mobile App for Marketplace– You don't have to invest in developing a mobile app but you can convert your marketplace easily with Mobile App Marketplace Builder.
More about PrestaShop Multivendor Marketplace Gold Combo Pack
Knowband includes the PrestaShop Multi-Vendor Marketplace – Gold Pack to help create a fully-featured marketplace like eBay, ETSY for the PrestaShop store administrator. There are several modules in the PrestaShop Marketplace Gold Pack that make the onboarding process simple and user-friendly for vendors. The Prestashop Multi-seller Marketplace module's Gold package can upgrade the online store and help the admin to resolve customer queries, bulk upload, run discount deals, customize invoices, etc
Key features of the Prestashop Multi-Vendor Marketplace:
Effective seller management:The marketplace moduleworks on the commission revenue model. Sellers may individually or globally set seller commissions on the Multivendor Marketplace.
Bulk uploading of goods:Adding products to the store is the most tedious task.It allows sellers to upload products in bulk that reduces the extra time and effort.
Interactive Seller interface: Transparency is important when you are doing online business. The module provides customers with an interface to contact vendors on the website.
Deal manager:A marketplace platform has a different type of customers and it is not that easy to satisfy each of them. The Deal Manager module allows sellers to offer deals based on the code of the catalog or coupon and running deals is a proven way for attracting shoppers to your store.
Promotional sales:It also allows running deals at a fixed or percentage-based number Like Flat percentage discounts or flat amount off.
Invoice customization: Allow the invoice to be personalized by sellers. By appending the invoice prefix, shop name, and shop logo, the sellers will be able to customize the invoice copy.
Seller-Admin helpdesk: Sellers can contact the administrator using the seller admin helpdesk
Low stock warning:The administrator and sellers can give low stock alert notifications to customers.
Seller-Admin Ticket System: The admin-seller ticket system is for the sellers to raise a query or request to the store manager.
Customer Review: The Review, Reminder, and Incentive module will facilitate the customers to add customer feedback on your store. Customers will earn points or any discount if they add a review for products and sellers.
Let's have a look at the PrestaShop Multi-Vendor Marketplace – Gold Pack modules and their key features:
PrestaShop Multi-Vendor Marketplace Module:
Prestashop Multi-Vendor Marketplace modules provide all the essential features to start a marketplace like Amazon. The Marketplace module provides the marketplace manager with an interface to handle vendors, fees, product listings, requests for payments, etc.
Sellers can request to register as a seller, current sellers will have a separate interface with various features such as the seller dashboard, choice for product listing, display earnings, pay-out request, and many more. You will provide consumers with a wide variety of goods at a comparable price by turning your online store into a marketplace that will help you attract customers and improve sales.
Marketplace CSV import/export :
CSV import/export module enables Prestashop Multi-Vendor Marketplace Gold Plan sellers to use the CSV import feature to list their goods in bulk. Through CSV, sellers may also list various combinations of goods.
Marketplace Customer-Seller Ticket Addon:
The customer has a concern about the product or the seller before buying the same in different circumstances and wants to answer his query by talking to the seller.
So the customer-seller ticket system module of the Prestashop Multi-Vendor Marketplace Gold Plan will provide consumers with a feature to contact the sellers to address their concerns.
Marketplace Deal Manager:
The Prestashop Multi-Vendor Marketplace Gold Plan deal manager addon will provide sellers with an interface and function from which each seller can offer various offers and deals on his PrestaShop Marketplace goods.
Marketplace Seller Invoice:
PrestaShop's multivendor marketplace seller invoice is used to enable the vendor of a specific store to produce their invoice. On the created invoice, vendors can add their shop name and shop logo and can change the invoice prefix, which is appended to the invoice amount.
Marketplace Sellers-Admin Ticket System
The admin ticket system module of this Prestashop Multi-Vendor Marketplace Gold Plan seller enables vendors to communicate with the admin and vice versa.
Marketplace Low Stock Alert:
Basically, the multi-vendor marketplace add-on for Prestashop is for vendors to let them know that their quantity of goods is decreasing. The seller can set a specific quantity of the products in this addon and if any of his products are below this range, the seller will receive a notification email about the low inventory of the product.
Review Reminder and Incentive:
The admin will send email notifications to their customers to gain useful reviews on their latest transactions with the aid of the PrestaShop Review Reminder and Reward addon.
If you already have the Marketplace module then you can add any or all of the modules individually.
Conclusion:
It's high time to pick up your strength and start adding sellers and attracting customers on your marketplace.
Please feel free to get in touch with us if you are still unsure. We will be able to explore it one by one with you. If there is a functionality that you want in your Prestashop store, possibilities are that a Prestashop plugin would allow you to do it, you can always contact us for your custom plugin creation needs if you do not find any such plugin. We provide eCommerce solutions from module creations to website development.