As the eCommerce industry continues to thrive, businesses are increasingly turning to multi-vendor marketplaces to expand their product offerings and boost sales. PrestaShop, a popular open-source platform, provides a solid foundation for building online stores. To enhance its functionality and enable multi-vendor capabilities, various plugins are available. In this guide, we will explore the features and benefits of the PrestaShop Multi-Vendor Marketplace Plugin by KnowBand, helping you make an informed decision for your online business.
1. Understanding the Importance of a Multi-Seller Marketplace:
A multi-vendor marketplace allows multiple sellers to register and list their products on a single platform, attracting a larger customer base and offering a diverse range of products. It provides a win-win situation for both sellers and buyers, as sellers gain access to a wider audience, and buyers enjoy a broader selection of products at competitive prices.
2. Key Features of the PrestaShop Multi-Vendor Marketplace Plugin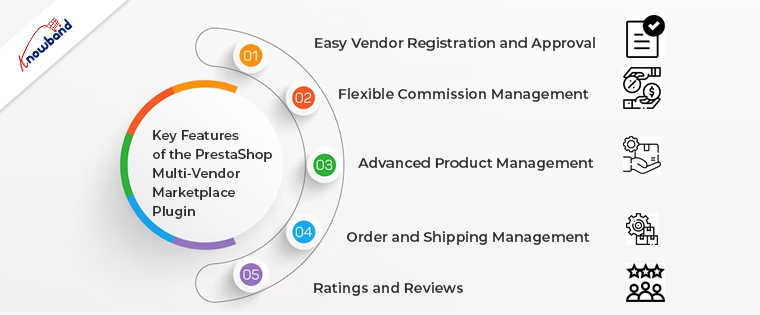 The PrestaShop Multi-Vendor Marketplace Plugin by KnowBand offers a comprehensive set of features that are essential for managing a successful multi-seller platform. Some prominent features include:
a. Easy Vendor Registration and Approval:
The plugin allows vendors to register and submit their products for approval. As an admin, you can review and approve or reject vendor registrations, ensuring the quality and reliability of sellers on your marketplace.
b. Flexible Commission Management:
The plugin offers flexible commission management options, allowing you to set commission rates individually for each vendor or based on product categories. This ensures fair revenue sharing and incentivizes vendors to perform well.
c. Advanced Product Management:
Vendors can easily manage their products, including inventory, pricing, and product variations. The plugin also supports bulk product import/export, making it convenient for vendors to update their product catalog.
d. Order and Shipping Management:
The plugin provides a centralized order management system where vendors can view and manage their orders. It also supports integration with popular shipping carriers, allowing seamless order fulfillment.
e. Ratings and Reviews:
The plugin enables customers to leave ratings and reviews for vendors, promoting transparency and building trust. This feature helps buyers make informed purchase decisions and encourages vendors to maintain high-quality products and services.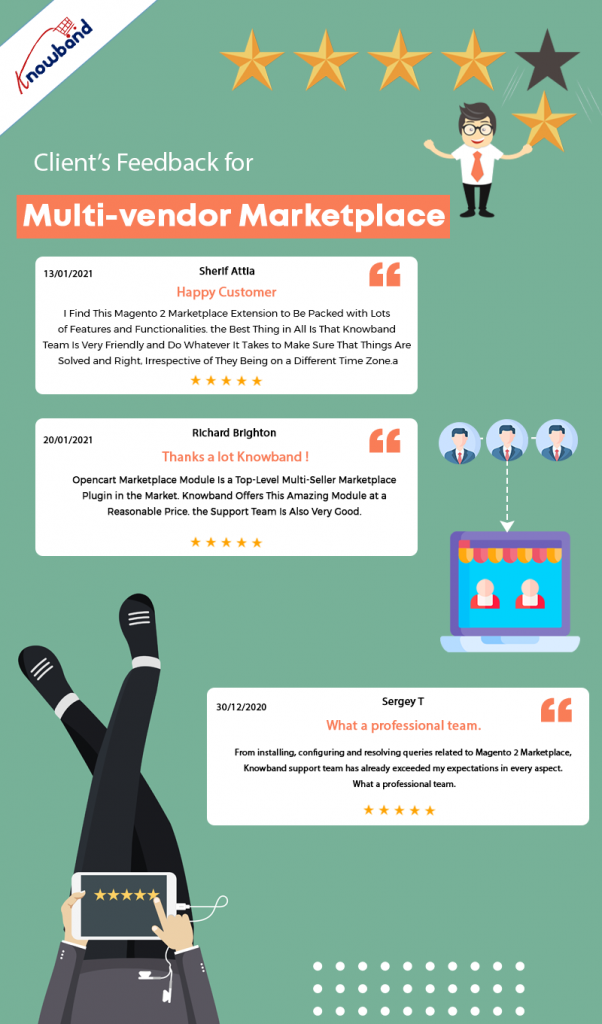 3. User-Friendly Interface and Customization Options:
The PrestaShop Marketplace Addon offers a user-friendly interface for both administrators and vendors. It seamlessly integrates into your PrestaShop store, providing a consistent and intuitive experience. Additionally, the plugin offers customization options, allowing you to tailor the marketplace's look and feel to align with your brand identity.
4. Robust Administrative Controls:
As an admin, you have complete control over your multi-vendor marketplace. The plugin equips you with robust administrative controls to manage vendors, products, orders, commissions, and other aspects of the marketplace. This level of control ensures efficient operations and smooth management of your online business.
5. Excellent Support and Regular Updates

KnowBand, the developer of the PrestaShop Multi-Vendor Marketplace Plugin, is known for its exceptional customer support. They provide timely assistance and address any concerns or issues that may arise during the installation or use of the plugin. Furthermore, KnowBand regularly releases updates, ensuring compatibility with the latest versions of PrestaShop and providing new features and enhancements.
Conclusion:
Choosing the right online marketplace plugin is crucial for the success of your PrestaShop store. The PrestaShop Multi-Vendor Marketplace Plugin by KnowBand offers a comprehensive solution with its extensive features, user-friendly interface, and robust administrative controls. With this plugin, you can create a thriving online marketplace, attracting vendors and offering customers a wide range of products. Invest in the right plugin, and unlock the potential of your PrestaShop store in the world of multi-vendor e-commerce. For further assistance or any queries, feel free to contact support@knowband.com and get in touch with their dedicated support team.