Nowadays, e-commerce dominates our daily life. Daily increases in consumer purchases are seen by online retailers. The numerous shopping carts that are currently on the market have made creating an e-commerce website less difficult. In the meanwhile, as online businesses compete more fiercely, it is becoming increasingly important to evaluate a site's effectiveness. The main challenge for any online business is to boost its store's conversion rate.
This post offers recommendations for Prestashop modules that are excellent for boosting conversion. It has been demonstrated that when integrated and used properly, the Prestashop plugin may produce the best outcomes.
How many are converted?
The e-commerce conversion rate is the proportion of site visitors who click on your e-commerce website or landing page that converts or finishes the targeted action. Conversion actions might fall under a variety of headings, including clicking a link on your website, filling out a survey or form, adding items to an online shopping cart, subscribing to a service, or signing up for an email newsletter.
The conversion rate percentage is the percentage of an organization's online purchases that result in sales. For your e-commerce business, divide the total number of conversions by the total number of PrestaShop visitors, then multiply the result by 100 to get the conversion rate. When figuring out the conversion rate, you can swap out the visitor count with the typical conversion rate.
Techniques for Increasing the PrestaShop Store's Conversion Rate

A. Free Delivery
The perk of free shipping is appreciated with every purchase. Studies show that a significant share of customers chooses a delivery-only retailer. One of the best strategies to increase your conversion rate on PrestaShop is to provide free shipping. By incorporating the cost of delivery in the price of the goods and using numerous free shipping manager Prestashop plugins for the same, this is easy to do. For instance, free shipping is offered for transactions over a particular amount to encourage consumers to make purchases. That kind of strategy will encourage customers to shop on your website. Therefore, Prestashop's free shipping manager plugin is crucial to the success of the store.
B. Pop-up ads
Pop-up windows attract website visitors to click or perform specific actions because they are visually appealing. It is an effective method for lengthening visitors' stays on a website. Offering discounts or free delivery in exchange for completing a brief survey is also a great idea. It is feasible to improve the Prestashop exit pop-up plugin window in terms of both appearance and content. Additionally, it acts as a subliminal inducement for users to hang on the page. There shouldn't be too many exit pop-ups on the website, but they should be there to advertise offers. The Prestashop departure pop-up is the greatest for boosting the store's conversion rate.
C. Finish
The checkout process can be improved, and default drawn-out checkouts can be avoided, to increase conversion rates. As a result, conversion rates will rise and cart abandonment rates will decline. A checkout page should be responsive, user-friendly, and balanced in terms of both design and format. The Prestashop one-page checkout module allows for complete layout modification and has a straightforward signup process. It is the greatest and most unique since it provides a variety of delivery options and payment options. The Prestashop One Page Checkout module's most recent version is compatible with a variety of themes. Prestashop's Single-Page Checkout streamlines the procedure and enhances the checkout page. Below are a few characteristics of a successful checkout method:

1. Quick Registration Through Social Media:
"Social login" is the newest login craze, and it significantly increases registrations. Through the Prestashop one-page checkout plugin, additional social login options like Facebook and Google are available. The store owner gets more thorough information while saving time.
2. Guest Departure:
The Guest Checkout option is part of this Prestashop one-page checkout module. Customers won't have to spend time filling out a lengthy registration form because of this functionality. If a customer chooses not to sign in, they can complete a guest checkout rather than leaving the basket empty. If the consumer has previously registered with the shop, they may go to the checkout.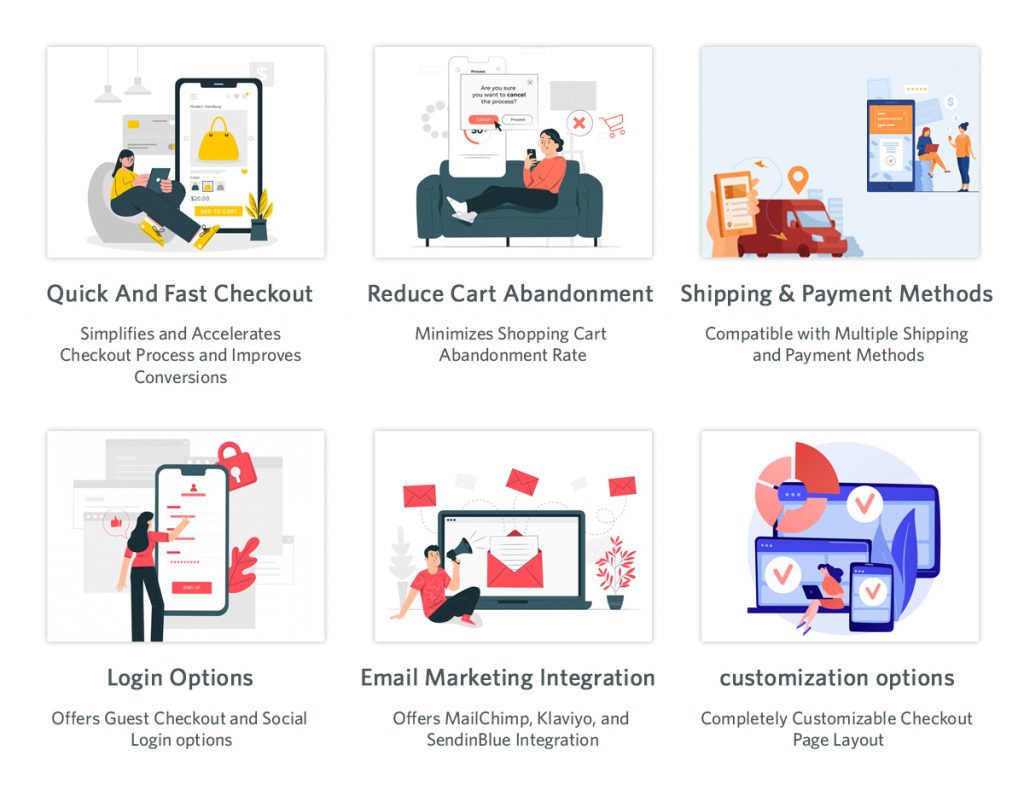 3. Update Your Shopping Basket and Display Product Details:
Both the checkout field and the cart fields can be customized. You can specify which cart elements you want clients to see with Prestashop's one-page checkout. The coupon entries may be deleted by the administrator from the Cart page. For instance, not many fields are clearly visible to both visitors and registered users.
4. Giving Away Free Goods:

Customers enjoy receiving tangible things, and if they can get them for free, it encourages them to return. Visitors receive the presents after making a predetermined purchase amount. Prestashop's present product plugin's gifting feature, which offers gifts based on various conditions, is quite helpful in these situations. The Prestashop gift product module can be used by e-commerce admin users to increase conversion rates. It has been noted that customers tend to spend that much when they find gifts on sale. One of the best conversion-boosting strategies to use in eCommerce sites is the Prestashop Free goods addon.
Finishing up
How to boost eCommerce store conversions was covered in this post. For increasing conversions on eCommerce sites using Prestashop plugins, we also have other tried-and-true techniques. Furthermore, get in touch with us at support@knowband.com if you're interested in learning more techniques. If you require any bespoke developments for your company or in relation to our Prestashop modules, kindly let us know. If you have any questions or problems with one of our Prestashop modules, we are here to help.