The topics covered in this comprehensive, in-depth guide are "How to Create Product Listings on eBay?" and "How to Connect Your Store with eBay" by Integration Through Frameworks. Millions of people are actively searching for your goods on eBay, so if you've already created a seller account there, you're just one step away from reaching them. Why wait, then? Let's jump right into how to get your product listed on eBay. This guide can assist you if you already operate a business and want to broaden your customer base.
Before you can show and sell your item on eBay, you must first make a product listing. For the most part, this is the page or area that a product receives on eBay where the full description of the item, the seller's terms and conditions, and other information like shipping choices, payment options, reviews, and ratings, etc. are to be mentioned.
How may a Listing be made on eBay?
The first step in getting your product in front of customers is to create an eBay listing. In accordance with the kind of product you want to sell, eBay offers you a variety of listing alternatives.
On eBay, a number of pre-listed categories are available for you to put your products in. You can create your listing using the eBay listing tool – Product catalog if your product fits into one of the aforementioned categories. The primary groups listed are:
General Electronics
cooling, heating, and air
Appliances for a small kitchen
hefty appliances
Goods for Sports
These categories are then broken up into many product sub-categories, which lets you make a much more relevant eBay listing.
If your goods don't fit into any of the aforementioned categories or you only occasionally sell on eBay, you can choose the features of the eBay listing tool. To complete the listing procedure, you must first sign in.
How can my Store be Integrated with eBay?

It's not rocket science; there are a number of eBay connection programs already on the market to help you integrate your store with eBay, like PrestaShop, Shopify, Woocommerce, and Opencart, among others.
Getting one and using it right away is all that's required!
So which one do you pick?
However, open-source solutions with very identical features and possibilities for integrating your store with eBay include frameworks like PrestaShop, Shopify, Woocommerce, and Opencart. Let's look into how these frameworks can assist you in building up your store and linking it to eBay in more detail.
Use Woocommerce to connect your store to eBay: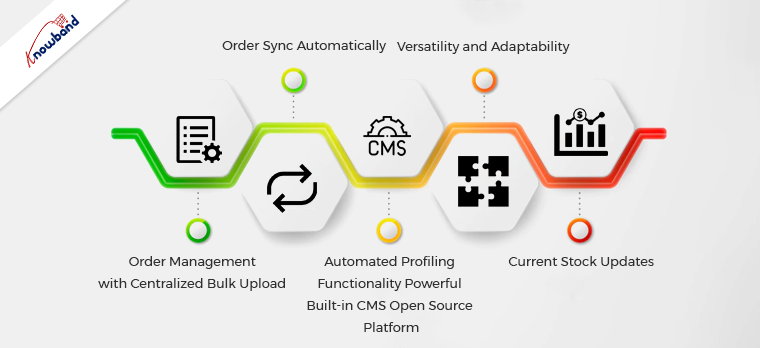 The following are the essential characteristics:
Order Management with Centralized Bulk Upload
order sync automatically
Automated Profiling Functionality Powerful Built-in CMS Open Source Platform
versatility and adaptability
Current Stock Updates
For creating your online business, use the most adaptable eCommerce platform.
Woocommerce is a free WordPress plugin that offers retailers a fully customizable open-source PHP-based e-commerce platform. WooCommerce has a built-in, powerful CMS system, but Magento does not, and this is the main distinction between the two platforms. People can create digital content, and numerous users can manage it using a CMS, or content management system. WordPress, one of the most well-known website/blog/e-commerce building platforms, supports Woocommerce as a WordPress plugin with a robust CMS system.
Woocommerce is a fully open-source platform that enables users to add a limitless number of items, administrators, and orders. A large number of plugins and extensions (400 to be exact) are compatible with Woocommerce, and the UI/Ux has been created to be very user-friendly.
Woocommerce also provides a range of themes and designs from which a user can select. Anyone can create a visually appealing and functional store design, even if they have little to no experience with it. Numerous more websites also offer easy downloads of hundreds of Woocommerce themes.
Users have the option to give free shipping to their clients and can even determine their own shipping charges. Utilizing the Woocommerce-eBay integration allows for a lot more possibilities. Details about it are available here.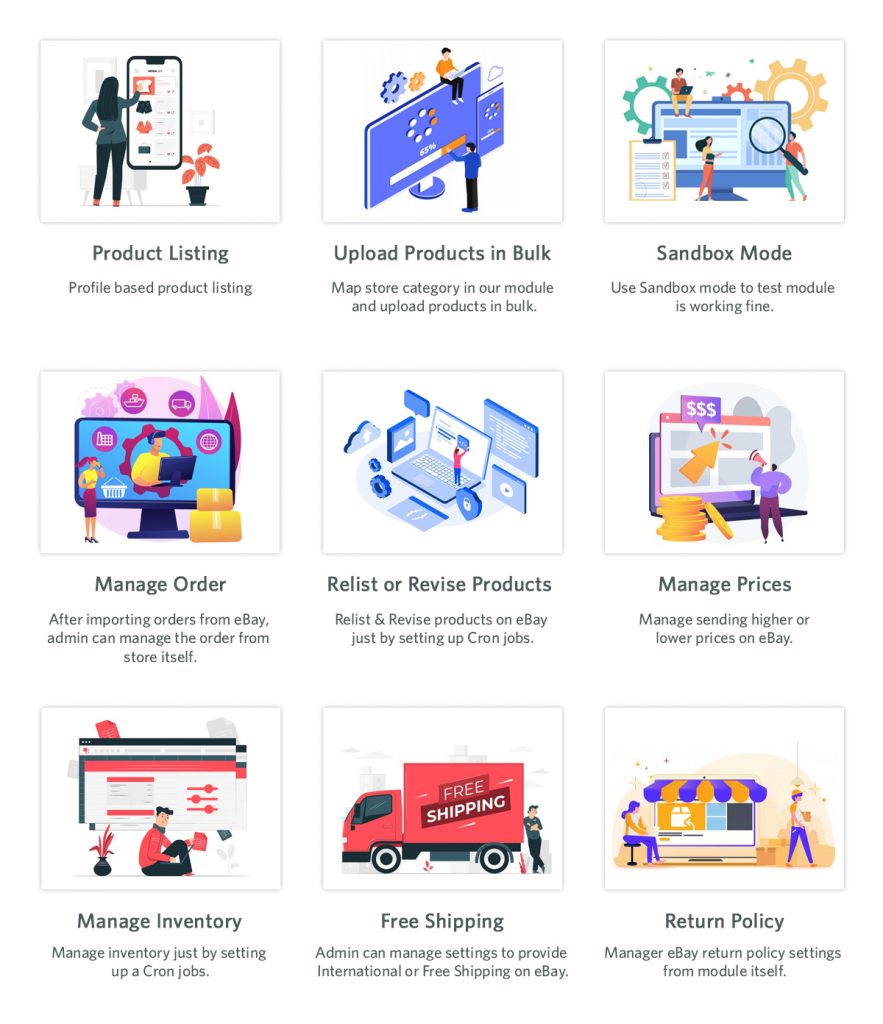 Using Opencart to connect your Shop to eBay:
The following are the essential characteristics:
Batch Upload
open-source software
Order Management Centralized
Excellent Forum Activity
Profiling automatically
from a single admin panel, manages several stores
Instantaneous stock updates
order sync automatically
An unrestricted, PHP-based, open-source eCommerce platform with free services. Opencart gives the user the freedom to add and manage an unlimited number of products and categories. This implies that you can list all of your items in as many categories and subcategories as you desire, whether you have five products or five lakh.
Opencart also offers recurring payments, which is an intriguing additional choice. These are payments that happen repeatedly. Let's say you want to sell a subscription-based product or you want to offer customers special deals or discounts. By dividing the payment into multiple smaller sections, you may also decide how you want your consumers to make a payment.
There are also thousands of shipping options to pick from. By doing this, you'll be able to provide your customers with a wide range of shipping options for a better shopping experience and give your purchasers several delivery options to pick from.
The OpenCart store and eBay integration processes are simple. With OpenCart eBay Connector, it is simple to integrate the store with eBay without any obstacles or issues.
Using Prestashop, you may Integrate your store with eBay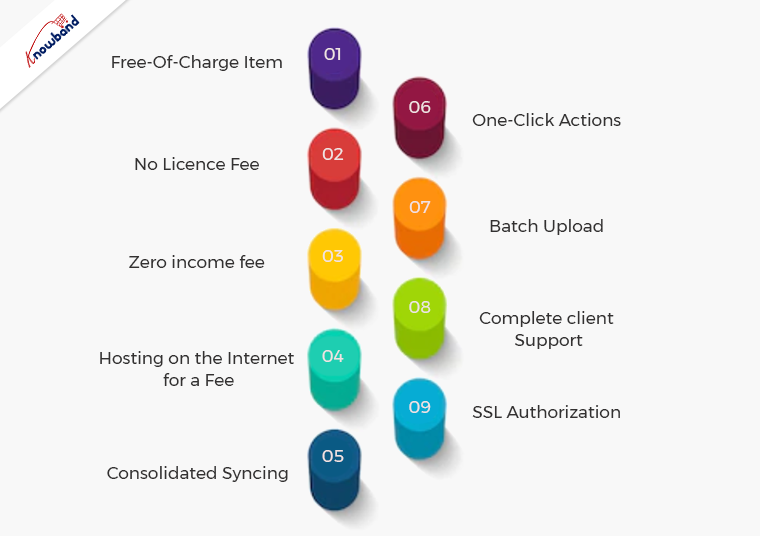 free-of-charge item
no license fee
Zero income fee
Hosting on the Internet for a fee
Consolidated Syncing
One-Click actions
Batch Upload
complete client support
SSL authorization
The software that adapts to all e-commerce projects is PrestaShop.
Open-source eCommerce software called Prestashop was created in association with the Prestashop community. PrestaShop is a robust platform built on the Symfony framework that is highly adaptable and, as Prestashop advertises, is constantly improved thanks to the dedication of its users and the guidance of industry professionals. Prestashop has been a trustworthy foundation for sellers to combine with major partners like – Paypal, Google, etc.
More than 600 functions are available to merchants using PrestaShop.
Select from enticing themes
Support and interface are available in 65+ languages.
Featuring a simple installation process and Click&Build's round-the-clock customer service
You will receive complete technical support if you integrate your eBay store. Prestashop stands out from the competition due to its $0 installation expenses and zeroes commission fees on your sales, to name a couple more advantages.
Using the PrestaShop eBay Marketplace Integration addon, you can manage both the eBay store and PrestaShop shop from a single dashboard.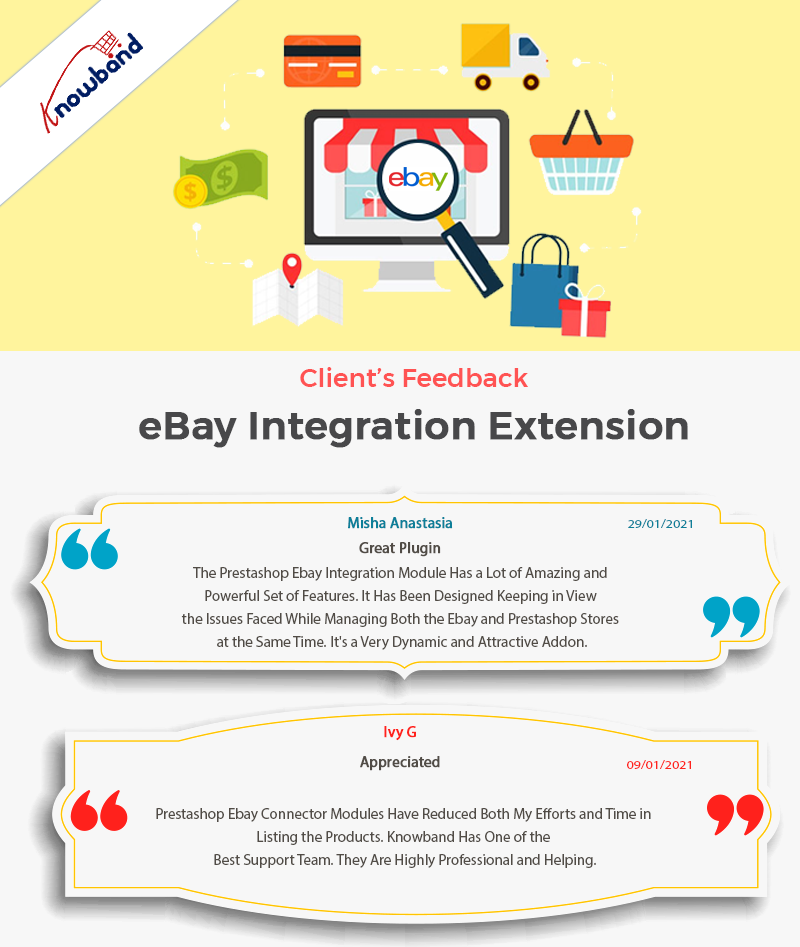 Connect your Shopify business to your eBay store
The following are the essential characteristics:
a platform that uses SaaS
Drag & Drop interface with complete coding flexibility, SEO-optimized
Order Management Centralized
actual stock updates
order sync automatically
Auto-profiling with SSL certification
Although Shopify's SaaS-based platform has some restrictions when it comes to customization when compared to other platforms, its other outstanding capabilities make it the ideal choice for a seller wishing to integrate his or her store. Shopify provides the vendor with gorgeous store designs and more than 65 themes. A benefit of Shopify is that it completely supports mobile eCommerce as well.
Users may easily get the necessary statistics and store information thanks to the detailed dashboard. A seller might spend less time selling when the shipping and tax rates are automatically accessed. Users of Shopify can choose from a variety of shipping options. Language barriers are being reduced in part thanks to the multilingual user interface.
By linking your Shopify store to eBay, you may attract millions of customers to your merchandise.
Using Shopify's eBay integration, automate and increase your sales.
Summary
Therefore, let's now surface ourselves after this in-depth exploration of the listing and their integration, and take a deep breath because we now know "How to!" You will have a tonne of options to achieve financial success and freedom when you open your own business. You may set your own guidelines, build your own categories, pick your own extensions, and combine them to form an incredible store!
Both integrating your store with eBay and displaying your product there will provide you with countless exposure options. Simply select the one you believe is sensible and appropriate for your organization. All you need is to establish a business, connect it to eBay, and increase sales! To know further about the eBay Marketplace Integration, drop us an email at support@Knowband.com. Our Marketplace Integration expert team will be happy to serve you.