Online commerce is so crowded with different online buying and selling activities that it is challenging to maintain momentum in the face of so much opposition. It may seem difficult to capture the immediate interest of your intended customers when there are so many players in a given business sector. There are no specific rules that can help in achieving higher conversion rates because the eCommerce industry is very unpredictable. You may find it difficult to run an eCommerce store in this bleak scenario in terms of conversion rates and sales. Furthermore, now is the ideal time to begin investigating alternative sales channels due to rising customer expectations and the pressure to achieve record-breaking sales.
It's finally time to make amends if you're trying to get out of this dire situation by using the Multi seller Marketplace extensions for your online store. We're pleased to let you know that Knowband, has developed this exceptional Multi-vendor Marketplace Extension for a variety of eCommerce platforms, including Prestashop, Magento 2, OpenCart, and Magento. This extension has given small and medium-sized vendors new hope for conversions and sales. Administrators can access some of the key features via Marketplace Add-ons.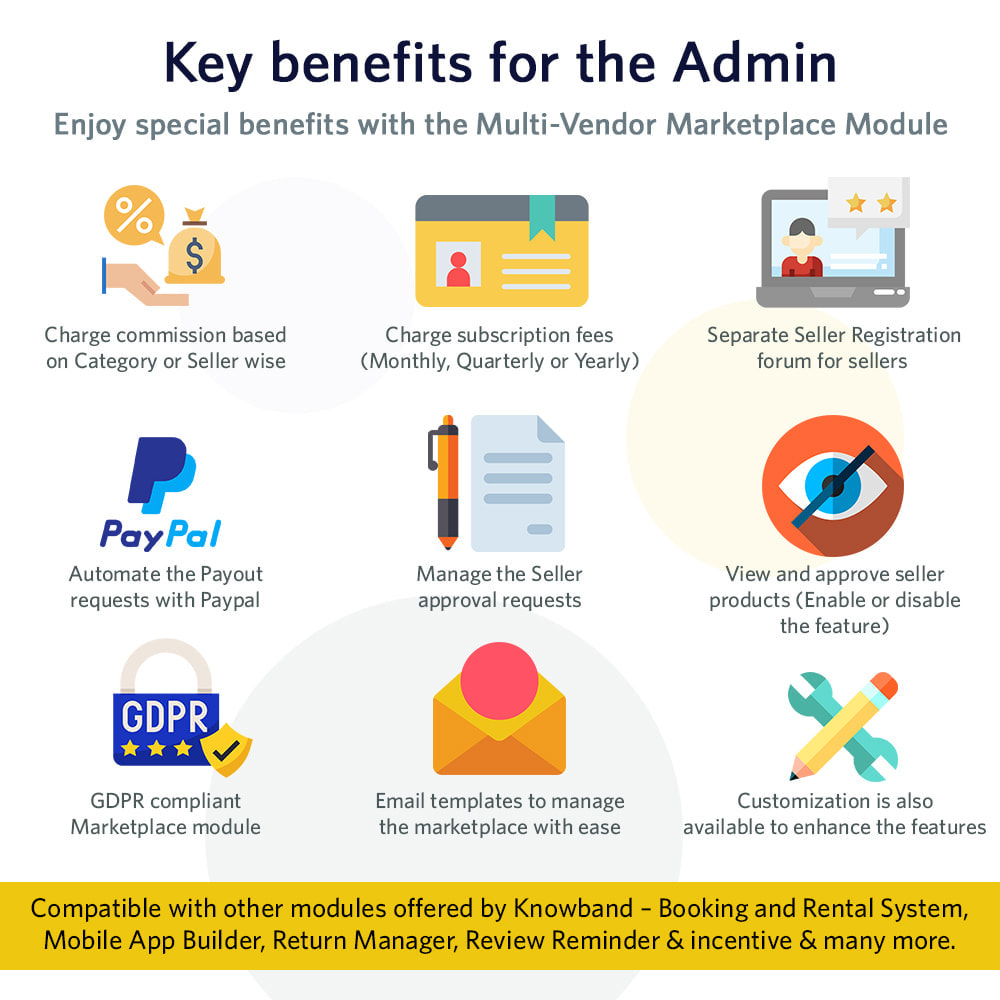 The ability for store administrators to approve or disapprove seller requests to add products to their marketplace store is one of the Multi Seller Marketplace module's noteworthy features. Every seller registration request is sent to the store administrator, who decides whether to approve it or reject it. Let's talk about the various factors that contribute to this Marketplace plugin's popularity and love among store administrators.
Smooth Commission Management in Multi Vendor Marketplace
Store administrators can easily manage the commission rates for various vendors based on a global percentage basis or even set commission rates for specific sellers with the aid of the marketplace extension. The store's backend makes it easy to manage everything.
Limitations on the number of products and categories that can be used by multiple sellers
The administrator determines how many products and categories can be added by multiple sellers. Now, the store administrator has complete discretion over whether to limit the number of product categories available to sellers on their marketplace store.
Simple account management for the seller via an interactive interface
Although there may be many options available to you as a customer when choosing the best marketplace module from the many Marketplace plugins that are currently available. However, the interactive user interface that makes it simple to handle various tasks makes this Multi-vendor marketplace extension by Knowband the best option. This appealing and user-friendly seller dashboard design enables you to quickly alter the seller's account.
Eliminates the inventory issue
Handling and maintaining the inventory is a very important and difficult task. In order to manage inventory, a lot of time and human labour are needed. However, since the introduction of this Marketplace addon, you can sell your goods to online customers without having to manage your inventory. Your time and money spent on this inventory management task will be saved.
Gives customers a product page that is educational in Multi Vendor Marketplace
Due to the presence of its informative product pages, the marketplace has quickly attracted the attention of buyers from around the world. For the purpose of facilitating quick purchasing decisions, buyers can view crucial information like seller name, seller rating, and other seller details on the product page itself. Additionally, customers can find vital details about a variety of related products from the same seller on the product page to facilitate a speedy purchase.
Gives buyers a quick way to register as sellers in Multi Vendor Marketplace
The marketplace extension provides buyers with a straightforward seller registration option. The store's front end features a "Register as Seller" option. for making it simple for buyers to transition into sellers. As a seller on this marketplace module, you can now both buy products and offer them to other people. Sellers do not need to register on the back end; everything can be controlled directly from the front end.
Last Words
The multi-vendor marketplace module is unquestionably a remarkable module for the community of buyers and can significantly improve their online shopping experience. The buyers can benefit greatly from this feature-rich Marketplace extension, which can greatly simplify the process of online shopping. Don't let the lack of a backup sales channel harm your company's chances for success. By giving your goods and services a sales platform, Knowband's feature-rich Marketplace plugin can increase conversions and product sales. Join us right away to explore the potential for increased conversions and customer interaction with this PrestaShop extension. Visit our website at knowband to ensure better business opportunities for your shop.
Know more:
What our customers are saying: