Been selling online for a while? Thinking of ways to take your business to new heights of success? Don't want to spend too much upfront but still want to reach a wider market?
How About Trying the Multi-Vendor Marketplace Model?
Wonder why this model and not any other?
Online shoppers are buying more and more from marketplaces with lots of different sellers. Want to learn more about it? Wondering what makes this model so popular? Let us check it out!
Why Do Customers Prefer to Shop at Online Stores with Many Sellers?

Well, savvy online shoppers want the best from their online purchases. And they want to be able to get everything they need in one place. They also want a lot of options, different prices, fast shipping, and the assurance that a brand will take care of their problems.
And how do they put all of this together?
The huge success of these thriving marketplaces like Amazon, eBay, Walmart, and Etsy has changed the way that millions of people shop online. With the pandemic changing the way we buy things forever, this business model has stood the test of time. Almost all online shoppers have a couple of marketplace apps on their phones to help them deal with the needs of their daily lives. Whether it's Big Basket to deliver fresh fruits and vegetables, OLA and Uber for daily travel, or Amazon to buy almost anything! Don't you think you should give your customers a similar buying experience by turning your online store into a multi-seller website?
You most definitely should!
Top Reasons to Open Your Own Multi-Vendor E-Commerce Store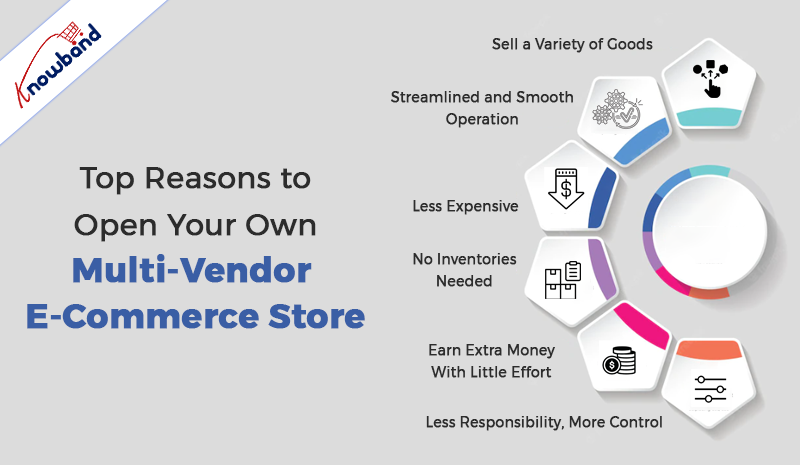 Innovating is the key to success in any business. The multi-seller model has a number of advantages over a regular online store. These are some of them:
1. Sell a variety of goods:
You can add as many vendors as you want, and each one will have its own inventory. This means that your store will be very similar to a real-world marketplace where lots of vendors sell a wide range of goods to customers. Customers who have been to other marketplaces would come to your brand for a new experience and stay loyal if you offer them the best products and services.
2. Streamlined and smooth operation:
Keeping an online store running well is all about streamlining operations so that you can manage and ship products as quickly as possible. When you turn your online store into a multi-vendor marketplace, each vendor takes care of its own stock, adds new products, and updates the product catalog. This makes operations run smoothly and without problems, and it puts the burden of keeping track of everything on more than one person. You can just relax and make plans for more efficient processes and business growth.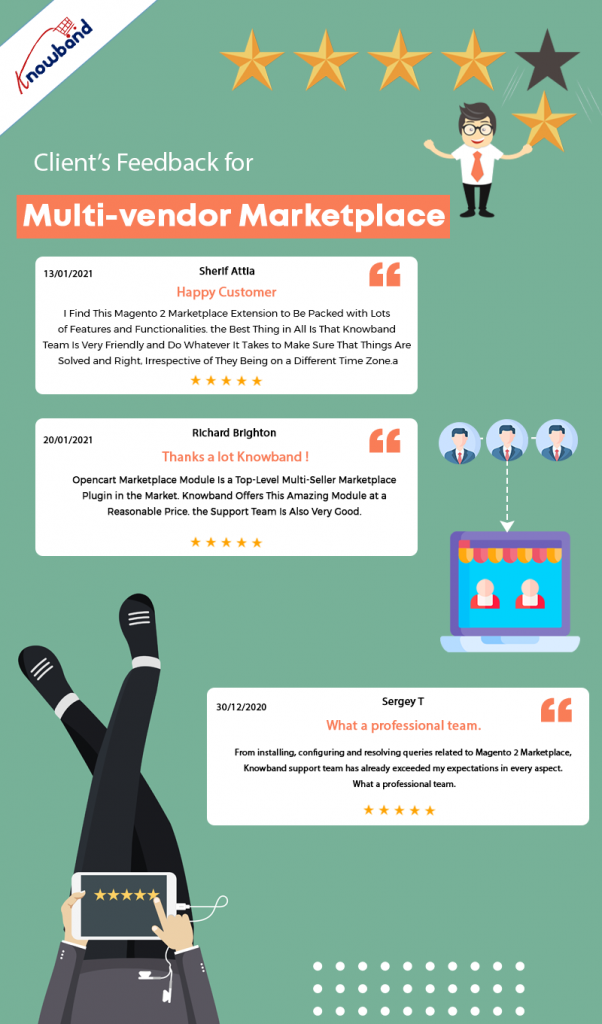 3. Less Expensive:
Having an online marketplace can drastically cut the cost of managing the different teams that are needed to keep the inventory side of the business running. You can just focus on your sales and customer service teams. This division of labor not only cuts costs but also makes your multi-vendor e-commerce store run more efficiently and offer better services.
4. No inventories Needed:
The hardest thing to do when starting an e-commerce business is to set up a warehouse and hire and manage the people who will work there. This task can add a lot to the cost of running a business, especially in the early stages. With multi-seller functionality, an online store can get rid of this basic requirement because the vendors are in charge of the warehouse, the inventory, and the people who work there.
5. Earn Extra Money With Little Effort:
You can add different sellers to your multi-vendor e-commerce store and charge them different commission rates. This helps you make extra money with very little work. Every time a seller gets an order through your marketplace store, you automatically get a percentage of the profit as a commission.
6. Less responsibility, more control:
The admin of an online marketplace has full control and authority to choose, allow, restrict, or reject any vendor. Once a vendor is listed on your multi-vendor marketplace, it is up to the vendor to fulfill the orders. This frees the admin from many tasks, but he can still check on and help vendors with the fulfillment process.
With so many benefits, you should definitely choose this popular business model. Don't you?
Why Do Vendors Prefer Selling on Multi-Seller E-Commerce Platforms?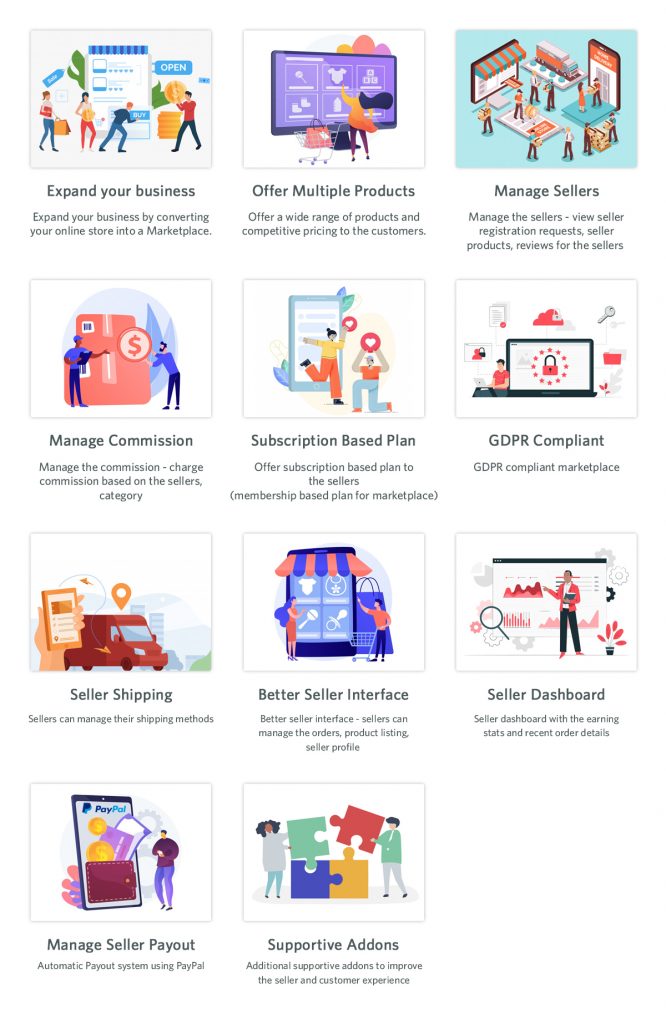 Multi-seller eCommerce solutions offer many benefits to both sellers and vendors. Some of these are:
More visibility and ready-made high-volume traffic in the market
Saves marketing costs because the brand value of the marketplace is in favor of the vendors
It's easy to set up and saves money since you don't have to set up an online store from scratch.
Using the accumulated knowledge and data from a multi-vendor marketplace helps to sell more.
The ability to focus on making money without having to worry about setting up
The market owner takes care of every technical aspect of running stores.
Which industries and services can benefit from how the marketplace is set up?
Wondering if your industry vertical is a good fit for the model? Put your worries to rest, because a multi-vendor e-commerce store model is good for almost every industry vertical.
Let's look at some situations where this type of business model is a great fit:
Food shops where multiple sellers can be added to offer different kinds of food made in their own kitchens.
Grocery chain with stores in different places that quickly fill orders based on where they are
Service platform for doctors and other medical professionals, with a panel of doctors and other related services
Gifts and flowers business that delivers orders all over the world. Multiple sellers offer their services through the multi-vendor marketplace.
Big chains with different stores can add more stores to one common marketplace.
Clothes, electronics, beauty products, and almost any other similar product can be sold online.
Non-profit and social organizations can work together on a single platform to improve society.
How Do You Make Your Online Store a Multi-Vendor E-Commerce Store?
With turnkey marketplace solutions like Knowband, you can turn your online store into a marketplace in just 10 steps.
How Knowband Helps You Get a Competitive Edge with Your Multi-Vendor Marketplace?

Knowband gives you full multi-seller functionality, so you can set up horizontal, vertical, service aggregator, or any custom model of multi-seller online stores. All marketplaces made with Knowband are mobile app compatible because they were all made with mobile in mind from the start. This means that your online store looks, feels, and works like a marketplace app even when opened in a browser on any device. This helps you take advantage of m-commerce and sell more.
Knowband's Built-In Multi-Seller Solution Does Not Require Any Extra Apps or Plugins
Make your brand valuable by offering the best products and multiple sellers
Increase profits by getting commissions from multiple sellers
Easily manage vendors with a simple and separate vendor panel
Set different commission levels for vendors and their products
Complete independence and control over choosing and modifying vendor and product profiles
Easy accounting and management of seller ledgers with just one click on your multi-vendor e-commerce store
Instant notification when a seller is added, changes, sells or uploads new products.
Adaptive payments to split payments between multiple sellers
Inbuilt discount engine to add multi-level discounts
Conclusion
Well, it's clear that the multi-vendor marketplace model is like a gold mine for your business. What's even better is that you can reach new markets just by adding new vendors from different places. You don't have to worry about keeping inventory and can offer a wide range of products to attract more customers. Having a marketplace set up is sure to take your online business to a much higher level.
All you need to get started on your exciting journey is a complete multi-vendor solution like Knowband. So what's the hold-up? To discuss further about the installation and features, connect with us at support@knowband.com