You might be wondering how the Prestashop Marketplace Gold Plan by Knowband is different from the PrestaShop Multi-Vendor Marketplace. Aren't you? Some of you might recognize that the latter provides admins with extra functions. You're completely correct. Knowband's Advanced Multi-seller Marketplace PrestaShop Addon Gold Plan has amazing add-ons. The Prestashop multi-seller marketplace, on the other hand, is a basic plan.
This is where you should be if you want to buy the entire package and don't want to buy any additional plugins as add-ons. In truth, Knowband's Advanced Multi-seller Marketplace PrestaShop Addon is the best option. Furthermore, the Prestashop Multi-seller Marketplace Gold plan has a chief responsibility to turn your business into a marketplace. However, if you dig further, you'll find that there's so much extra it can do for you.
What makes the Prestashop Marketplace Gold Plan a must?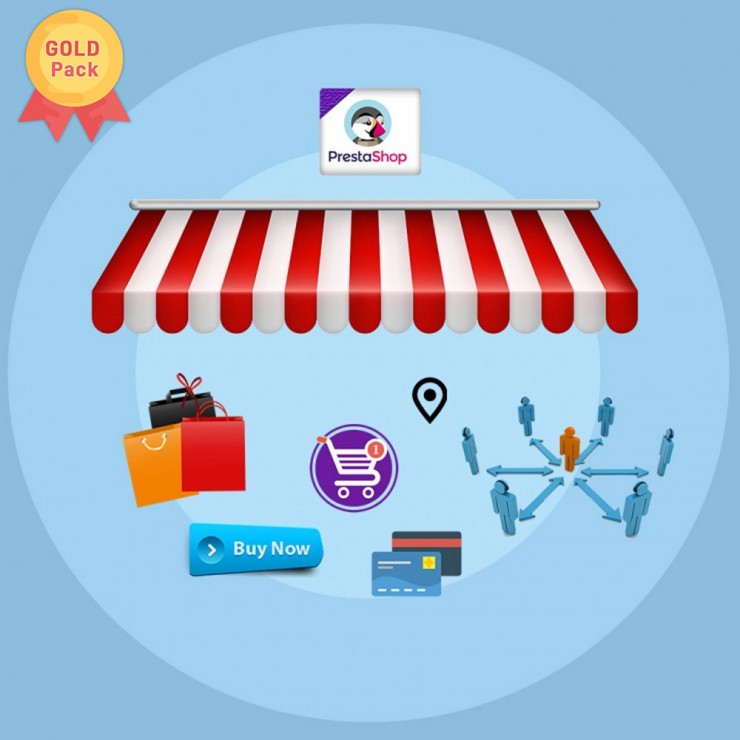 Make your eCommerce business a multi-vendor marketplace by modifying it
The PrestaShop admin may quickly modify the store with the Knowband Prestashop Marketplace Gold Plan. They may also easily launch a marketplace with only a few other keystrokes.
Collaborate with the appropriate vendors to help your company flourish
Monitoring vendors is a piece of cake with the Advanced Multi-seller Marketplace PrestaShop Addon. The Prestashop Multi-vendor Marketplace Gold plan Addon, in fact, maintains a record of each vendor's activities on the site.
Handling commissions is a straightforward
Your marketplace's commissions may be easily controlled by the administrator. In reality, he may use the PrestaShop Marketplace Gold Plan to customize the commission rate for the vendors to accomplish his goals.
Enables the vendors to easily publish their products in a single go
Mass product uploading is now a simple task. Also, using the PrestaShop Marketplace CSV import/export plugin, adding products is easy.
The effortless way to provide discounts to customers
Every customer likes discounts. Thus, with the help of the Deal Manager, the vendors can provide exclusive discounts to the consumers.
Tailored receipts for sellers are available
Vendors may personalize their invoices with the Marketplace Seller Invoice. Vendors can also customize the invoice copy. Further, by including the invoice prefix, store name, and logo.
Collaboration with the Ticket System for Admins
The Marketplace Gold Plan for PrestaShop's Seller Admin Ticket mechanism allows sellers to approach the admin.
Low Stock Alert capability in the module
The Prestashop Multi-Vendor Marketplace Gold Plan facilitates administrators to send out decreased inventory notifications to customers.
Conclusion
Such are the main features of Knowband's PrestaShop Multi-Vendor Marketplace Gold Plan. If you wish to learn something about the plugin, go to the Knowband product website. You may also reach out to us at support@knowband.com if you require any extra assistance.